Acupuncture Treatment
Acupuncture is a modality of Chinese medicine that consists of the insertion of fine needles into the body at specific points along meridians shown to be effective in the treatment of specific health problems.  These points have been mapped by the Chinese over a period of about 3000 years. In the past 20-30 years electromagnetic research has confirmed the existence and location of these points.
At Hart Chiropractic our acupuncturists on staff work alongside the Doctor and other team members. Combining the expertise of both the Chiropractor and the Acupuncturist in this team approach ensures the best quality care for the patient.
Individual Treatment Pricing
$165 Initial Intake
Approximately an hour and a half, including health history and treatment.
$110 Follow-ups
Approximately 45 minutes to an hour, including follow-up intake and treatment.
Package Pricing available at a discount. See the front desk for the most current discounted packages available.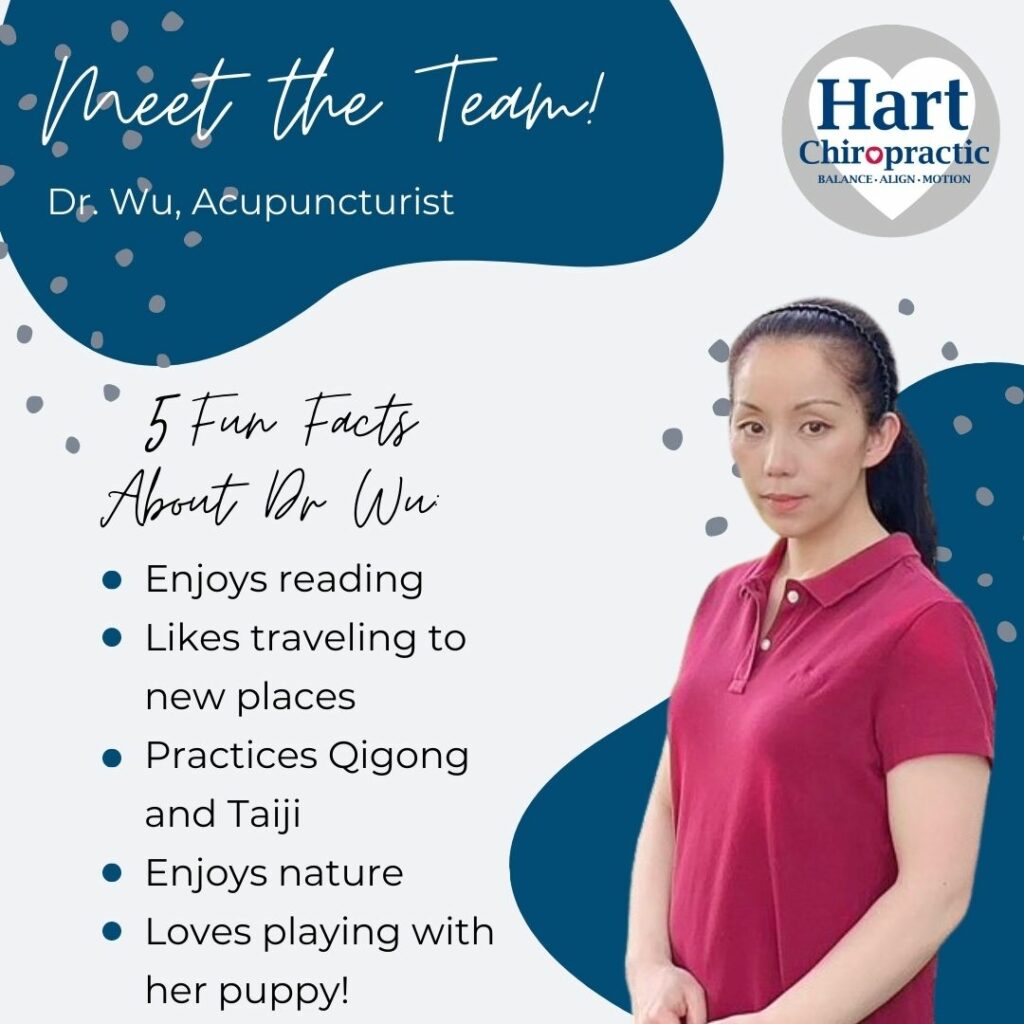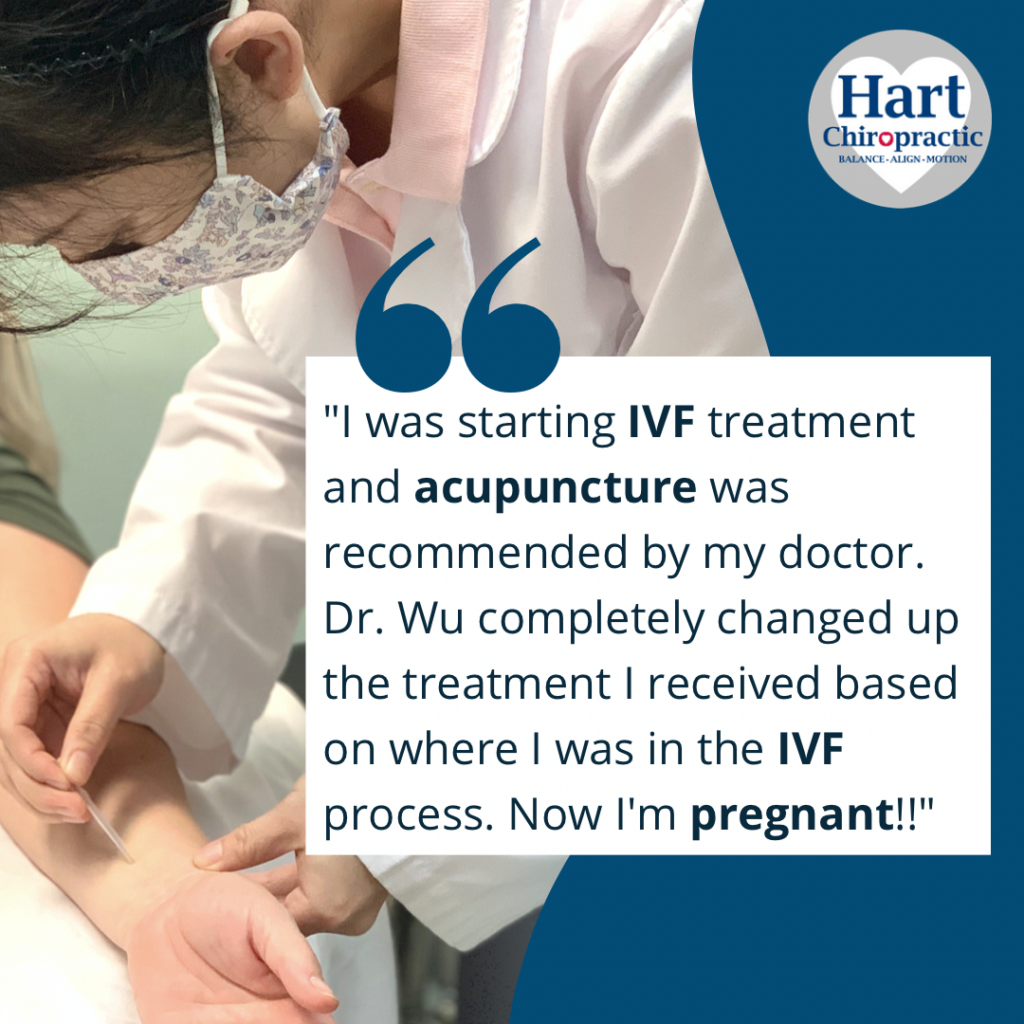 Shelly Wu
Licensed Chiropractor and Certified Acupuncturist
Over 20 years of experience in Acupuncture
Licensed in the state of Illinois
3 years continuing education spent in Beijing, China
Proud member of the Asian American Acupuncture Association
Dr. Shelly Wu started to practice Chiropractic and Acupuncture in the year 2000. Combining both Chiropractic and Traditional Chinese Medicine in her practice. Acupuncture is not the first choice for most people. Many of her patients come to see her when conventional treatments do not work, or when less effective conventional methods create more side effects.
She grew up in a family of Traditional Chinese Medicine. Both of her parents are Acupuncturists. Dr. Wu's mother is a NCCAOM certified Herbalist. Growing up in China, she benefited a lot from Traditional Chinese Medicine. She has always had passion for Traditional Chinese Medicine.
After getting her D.C. Degree from National College of Chiropractic, she went back to China to study Traditional Chinese Medicine. In her studies in China, she learned from many Acupuncture specialists and professionals in Traditional Chinese Medicine. She gained a lot of knowledge and learned many new techniques from her studies.
During her 10 plus years' experience in treating patients with a variety of conditions, she established her own unique style of treatment systems. Combining Acupuncture and other Traditional Chinese Medicine techniques, she gives the patients a different and drugless concept of health. Many disease processes begin with the body's inability to adapt to its environments. Instead of looking for the cure in drugs or chemicals, she tries to locate an area or the body which was not functioning properly, and cure the problems from the source. She will assist you to get healthy, and stay healthy.
Some Common Conditions Appropriate for Acupuncture Therapy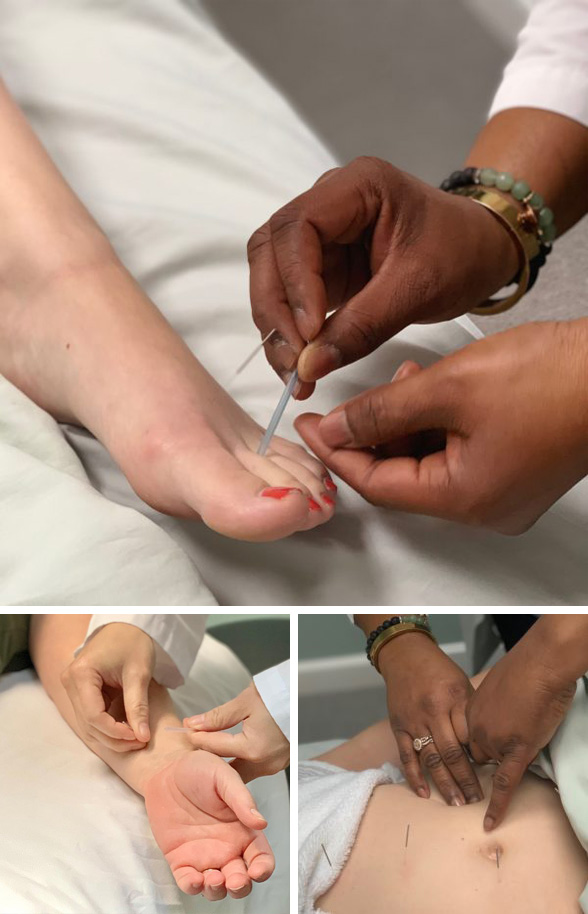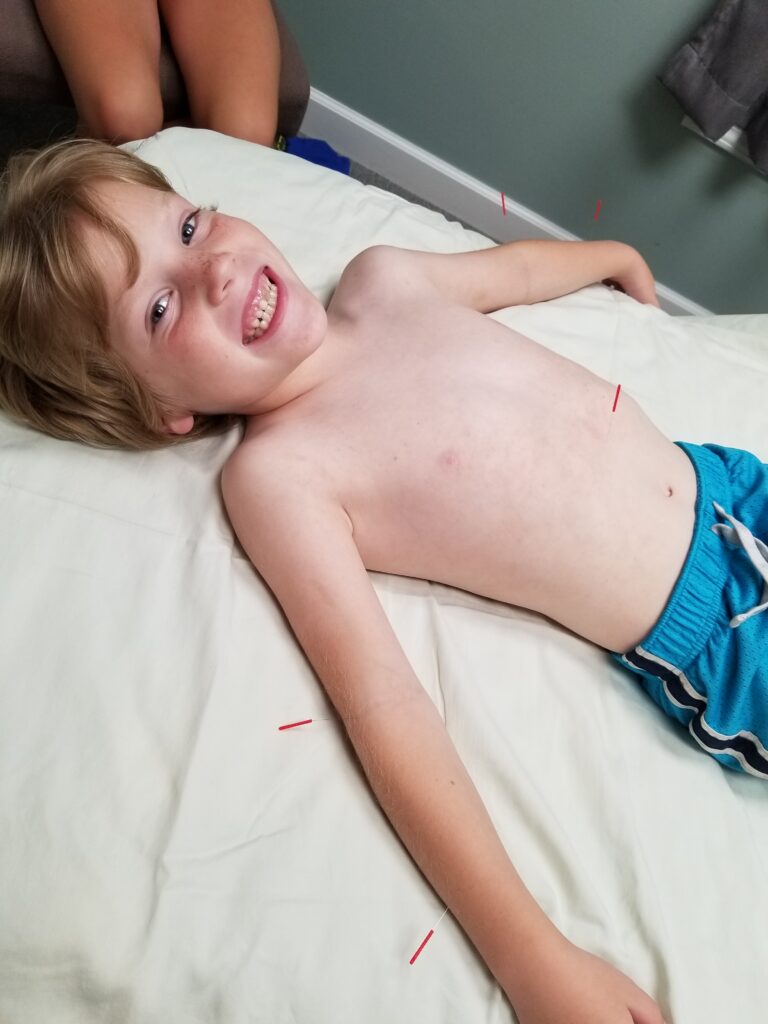 Digestive
• Abdominal pain
• Constipation
• Diarrhea
• Hyperacidity
• Indigestion
Emotional
• Anxiety
• Depression
• Insomnia
• Nervousness
• Neurosis
Eye-Ear-Nose-Throat
• Cataracts
• Gingivitis
• Poor vision
• Tinnitis
• Toothache
Gynecological
• Infertility
• Menopausal symptoms
• Premenstrual syndrome
Respiratory
• Asthma
• Bronchitis
• Common cold
• Sinusitis
• Smoking cessation
• Tonsilitis
Musculoskeletal
• Arthritis
• Back pain
• Muscle cramping
• Muscle pain
• Muscle weakness
• Neck pain
• Sciatica
Neurological
• Headaches
• Migraines
• Neurogenic
• Bladder dysfunction
• Parkinson's disease
• Postoperative pain
• Stroke
Miscellaneous
• Addiction control
• Athletic performance
• Blood pressure regulation
• Chronic fatigue
• Immune system tonification
• Stress reduction
What to Know & What to Expect for Your Appointment
You should wear loose fitting clothes so that acupuncture points are easily accessible. However, sometimes you may be required to remove certain articles of clothing so that the Acupuncturist has access to certain points. You will be properly draped so that only small portions of skin are exposed.
You will be asked to show your tongue, have your pulse taken, and may have your abdomen palpated. Acupuncturists are interested in the state of your internal organs, and by utilizing these methods we can determine the best treatment for you. Just like reflexology on hands and feet, different areas of the tongue, radial pulses, and abdomen correspond to different organ systems of the body.
Don't receive treatment on an empty stomach. You should eat within a few hours of treatment. Receiving treatment on an empty stomach can
sometimes lead to light headedness.
Expect to receive questions that appear to be unrelated to your condition. Acupuncturist will question you about various topics regarding your health and lifestyle. These things become patterns and help the Acupuncturist formulate the Chinese Medicine diagnosis and thus the treatment protocol.
Acupuncture needles are much thinner than hypodermic needles you see in doctors offices. Acupuncturists don't reuse needles. The needles
are sterile, one use and disposable.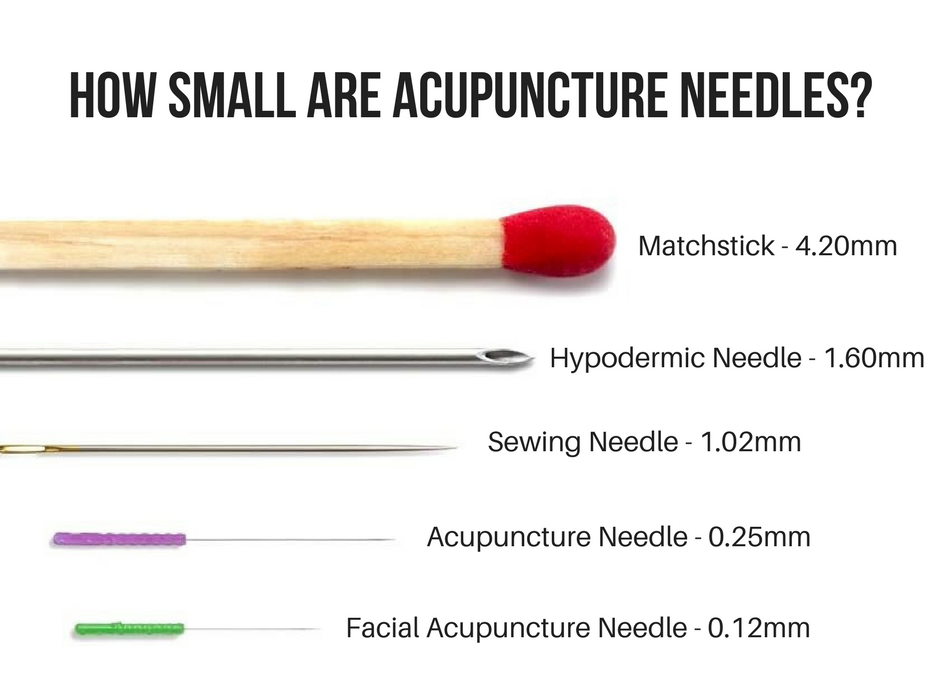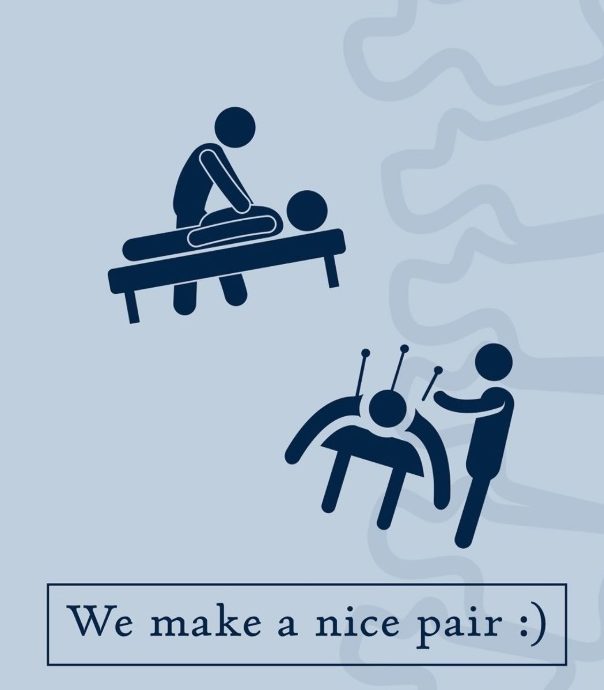 Hear from our patients on how Acupuncture helped them.
"I was NOT ok with my 12 year old child starting birth control to help with menstrual cramps, I'm so thankful I found Dr Wu to help calm down my daughter's bad cramps and help regulate it. My daughter started coming twice a week for 6 weeks and now she comes once every other month to keep it under control."
"My son had bad acne breakouts. He is a sophomore in highschool and feeling very self conscious about his skin. I thought I would try ACU before starting him on a medication that I see often prescribed. After two visits his skin cleared up dramatically. Dr Wu informed us that she was going to use a quick bleeding technique to release the heat in his body which is why he was breaking out. It only took 15 minutes. With the rest of his appointment time we focused on stress reduction and anxiety. Since we have started care here his skin has improved and I have noticed he is able to focus more in school which is helping his grades. This was a great surprise and it is what convinced me it was my turn to try ACU. Thank you Dr Wu!"
Why doesn't Dr. Hart perform Acupuncture?
"I wont settle for anything less than the absolute best possible care for my patients. True traditional Chinese acupuncture takes years to master.  This is not a skill I can quickly learn in a few weekend seminars.  I chose to hire two highly qualified Acupuncturists who have dedicated many years to learning and practicing true traditional Chinese acupuncture." Dr. Hart
Most Frequently Asked Questions:
Combined treatments have a impactful clinical relationship with one another. By stimulating the acupuncture points of patients undergoing advanced chiropractic care or seeking better health, a dual healing effect can be set in motion, which will result in better aligned spinal cord and ligaments as well as bolstered body functions. When they are properly combined, chiropractic and acupuncture treatments can effectively correct imbalances, boost natural healing, improve flexibility and energy levels, and restore the body to its prior state of health.
Not all patients have the same problems, they do not require the same care. During an initial exam the doctor will develop a treatment plan with the care that is appropriate for you.
Yes, both of our acupuncturists are fully qualified to treat patients without the need to see the doctor first.
Some people experience dramatic relief in the first treatment. For complex or chronic conditions, more treatments may be recommended. For acute problems fewer visits are needed. A treatment plan that includes the expected number of treatments will be discussed during your initial visit.
NO, we schedule our sessions so that the Acupuncturist stays in the room with you. We want 100% of your appointment time to be WITH the Acupuncturist. This is our most common question. It is common practice for acupuncturists to leave the room and start another patient while your needles are in; however, we feel this can cause unnecessary anxiety and uncertainty. To guarantee the best possible results and have the best communication experience you will not be left alone.
NO, you will start every session with a consultation to see how you are feeling that day. Our Acupuncturist will then decide if she needs to add or subtract from their treatment plan.
The most common side effects from Acupuncture are light-headedness after treatment, or mild bruising from the needles. Occasionally patients can get raised bumps on the skin for short periods of time. Ultimately, most potential side effects from Acupuncture are very minimal in severity and duration. One side effect that many experience is emotional release. Every person is different, but many will leave feeling calm and relaxed. A small number of people might feel a heightened feeling of sadness or even more rare, anger. Each person is different but having that emotional release is a sign that your CHI is moving. Don't worry, that's a good thing!
YES! We commonly see kids in our practice. The most common reasons parents are choosing Acupuncture for their kids are: bedwetting, acne breakouts and menstrual cramps.
Do you have more questions about Acupuncture?
Call or text our office at 630-262-1421.