Angie Wisdom Stastny RDN/LDN
Angie has over 20 years of experience as an RDN/LDN
Functional nutrition is my new secret weapon for crushing chronic disease, demolishing prescription drug dependency, and achieving better overall health.
If you are reading this and feeling "stuck" mentally and physically, you're in the right place. I help people make sense of what causes physical struggles and step by step we address each issue together.
As you heal, you start to take charge of your health and listen more closely to your body. Then you can discern what really contributes to your health challenges. I help you become independent and master of your own challenges!
Common conditions treated
Digestive disorders like IBS and diverticulosis
Weight Loss
Anxiety and Depression
ADHD
PCOS
Infertility
Pre conception preparation
Diabetes
Autoimmune diseases
Neuro cardiogenetic disorder
Heart and kidney disease
What To Expect
An extensive health history evaluation that incorporates physical, mental and emotional well-being
A supportive resource for healthy eating based on your nutritional needs
A step by step guide with a clear plan on how you will reach your goals.
A clear plan that is shared with your doctor here at Hart Chiropractic
Supplements to be used when needed
A supportive resource that can help decipher allergies/medical ailments/and current prescriptions and how they function with YOUR body
The Approach
A holistic, science based approach. Many people are looking for strategies to recover from a specific health challenge OR to avoid or move away from depending on prescription drugs. Many have exhausted all of the recommended treatments from their doctors but still aren't seeing the improvements. Some areas of focus are balanced nutrition, sleep, stress management, digestion and movement. I partner with each patient to create a step by step approach to restore balance to the body as a whole.
The Partnership
Patient centered care integrating nutritional needs along side your chiropractic care. Direct communication with our doctors and the added support system of our office to help you keep you on track and succeed!
Fill out the health intake packet
Angie will reach out get you scheduled
Appointments can be at Hart Chiropractic or virtually via Zoom
Comprehensive Nutritional Counseling
Start with a FREE 15 minute discovery call to meet Angie, learn how she can help.
Best choice for digging deep and discovering what's holding you back from your best life.
Cost $359*
90-120 minutes
Can be divided into two separate sessions
Detailed evaluation into your health with goal setting
supplement consultation and recommendations
Monthly follow up sessions $120/hr
Pay as you go as needed: $60 per 30 min -minimum of 30 minutes allowed.
*HSA and FSA cards are accepted.
Need more support?
Here are some add on testing that can help you:
GMAP testing
The test you wish your GI doctor knew about years ago.
The GI-MAP stool test utilizes cutting edge, Quantitative PCR technology to provide a true DNA/PCR based stool test. This technology has high sensitivity, specificity and a rapid turnaround.
The GI Pathogens section includes Bacteria Pathogens, Parasitic Pathogens and Viral Pathogens.
If you have been to multiple GI doctors, done multiple tests but still have lingering GI issues, this is the test you have been looking for.
"I have been to 3 GI doctors, had 2 colonoscopies, 2 endoscopies, breath tests, stool samples, been on multiple different medications and changed my diet….10 years of different opinions and different protocols to help my GI pain. The GMAP test found things that no GI doctor ever found. Now that I know what's wrong Angie's recommendations have been a game changer in addressing my GI problems. Honestly I am angry that this test was not given to me 10 years ago. I could have saved thousands of dollars and been symptom free if I had done this right away. The GI physicians need to catch up on how to address GI problems."
– M. W.
Continuous glucose monitoring:
THE NEWEST METRIC EVERYONE NEEDS TO KNOW!
Is Monitoring Blood Sugar Necessary for Non-Diabetics? The answer to this question is no, it's not necessary, but that doesn't mean it doesn't offer extremely valuable information. Knowledge is power, and we know that blood sugar monitoring helps to prevent symptoms and complications, prolong life, and improve the quality of life for individuals with diabetes. What can it do for non-diabetics?
A CGM can be a helpful way to understand more about your body. This knowledge helps you develop healthier lifestyle habits that support glucose regulation. This device may also help you understand how your nutrition and daily activities impact
overall metabolic health.
The problem with a lot of lifestyle factors is that they don't have any immediately apparent effects. You likely won't know how a daily habit affects you until years later. You might smoke a cigarette because it feels good at the moment, but you don't directly see what is truly happening at the cellular level with each inhale. You might choose to sleep 4 hours a night because coffee allows you to function for 20 hours per day, but you can't directly see how the sleep deprivation is affecting your cortisol levels, metabolism, and insulin sensitivity. You eat junk food because it tastes good, but you are blind to how it affects you on the insides until years later. If you could somehow visualize in real-time how your actions affect you, maybe you could stop yourself and make a better choice.
The added benefit of working with a registered dietitian, having access to your glucose data can help connect the dots between certain foods and how they may impact blood glucose levels.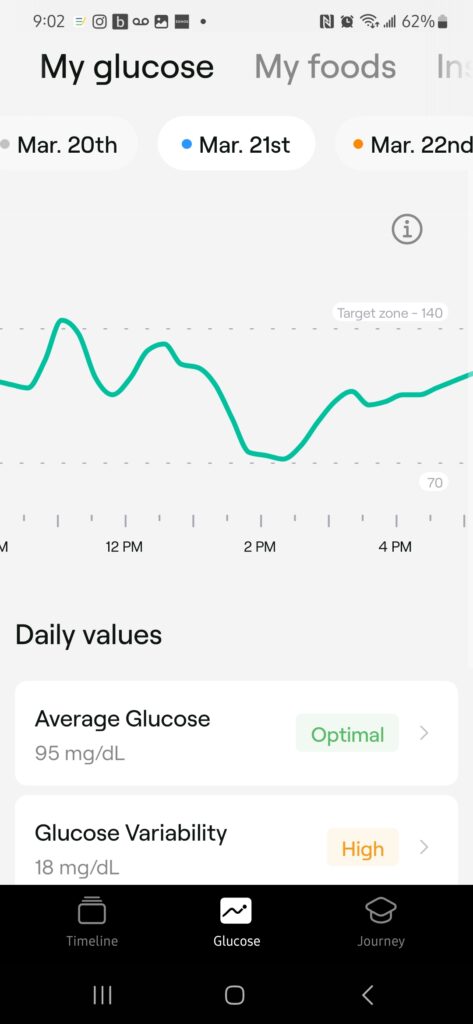 DUTCH testing for women:
Millions of women suffer from hormone imbalances. Whether it is menopause, weight gain, fatigue, low libido, premenstrual symptoms (PMS), mood swings, or depression, these symptoms can lead to more serious problems if misdiagnosed. Identifying the root cause of chronic health issues is certainly correctable, but only if properly identified.
The DUTCH Test® was created to provide insight into many of these concerns, working to deliver the most complete assessment of sex and adrenal hormones, along with their metabolites, in one easy-to-administer test. No blood to draw, spitting in tubes, or filling up jugs of urine. Our dried urine collection process is great for baseline measurements of women with hormonal imbalances and for Hormone Replacement Therapy (HRT) monitoring.
After utilizing the DUTCH Test®, you will be able to work with your medical provider to continue to track and evaluate hormone levels, ensuring they are at their optimum balance.
Hair Mineral Analysis:
Hair is an excellent biopsy material. It is easy to sample, easily preserved, and transported, represents a soft tissue of the body, and is a storage and eliminative tissue. As hair grows it forms a permanent record of the body's nutritional deficiencies or excesses. Hair Mineral Analysis gives a long term reading that is unaffected by recent meals, activities such as exercise, or emotional states. Toxic metals rarely remain in the blood or urine for long, but often deposit in the hair where they can be measured over a three month period.
When mineral deficiencies occur, toxic metals often replace these vital minerals in the body. Various mineral imbalances are revealed by hair analysis. An affordable, non-invasive Hair Mineral Analysis can help practitioners establish a nutritional profile to be used by the patient to guide in the development of an effective wellness and nutritional balancing regimen.
Mineral Imbalances & Hair Analysis
Minerals in the body are involved in almost all enzyme reactions, metabolic activity, and detoxification cycles. They are vital for the effective absorption and proper function of nutrients and vitamins. Our bodies cannot utilize vitamins and other nutrients without a correct balance of minerals, even in trace amounts. Improper mineral balance has been linked to chronic fatigue, weight gain/loss, headaches, depression, osteoporosis, and malabsorption.
Various mineral imbalances as revealed in the hair analysis indicate metabolic dysfunctions before any physical symptoms manifest. An affordable, non-invasive Hair Mineral Analysis (HMA) can help establish a nutritional profile to be used to guide the development of effective wellness and nutritional balancing protocols.
HMA is a screening test that measures the levels of up to 60 essential minerals and toxic metals. With correct testing and interpretation, one can construct a complete metabolic profile of the human body.
"What a great experience! Thanks Dr. Hart, and to the staff of Hart Chiropractic. Looking forward to my next visit!"
"Dr. Hart is totally professional, empathetic and creative regarding treatments for returning patients to high levels of wellness and then retaining that wellness."
"I've seen several chiropractors over 10 years for chronic back pain with limited success. I started seeing Dr Hart about 2 years ago after moving to the area and his approach was unlike any Dr. I had ever had. "