8WW Whole Body Care
Chiropractor + Personal Trainer + Functional Nutritionist + Massage Therapist + Acupuncturist = YOUR DREAM TEAM to Better Health. Give us 8 weeks and we'll change the rest of your life!
The health epidemic plaguing our world is overwhelming. That's why 8 Weeks to Wellness® is a vital program for people all around the world. 8 Weeks to Wellness® is a comprehensive wellness program that optimizes what people think about, how they eat and supplement, and how they exercise and care for their body through a specific, comprehensive 8-week program.​ Through the program we continue to consistently see drastic reductions in weight, body fat, blood pressure, blood glucose levels, cholesterol and other blood lipids, as well as waist and hip measurements.
How do you measure wellness?
KEY components to the 8WW program: Chiropractic, Fitness, Nutrition, Mindfulness, Acupuncture, Massage, Spinal Decompression
What's right for you? Your Day 1/Day 2 will reveal which components make up your custom 8WW plan. How does the doctor know what I need? Your Day 1 appointment is a fact-finding exam to measure your wellness. Your Day 2 will go over the results and the custom 8WW program built just for you!
You can't medicate your way out of a problem that you behaved your way into. Lack of symptoms or feeling good is not an effective barometer to measure your health.
That's where the WELLNESS SCORE comes in. This is a scoring system developed to track and measure your physiology and function. It actually gives you a grade, A through F. We measure what we call biomarkers of health.
Let's look at our example:
Here is one of our patients who came for our 8WW program. His why story is like many of our patients.
"I lost my father a year ago from heart disease and diabetes. I watched the last 15 years of his life living in misery and dependent on my mother for everything.  I don't want this for my life.
I want to be a blessing not a burden for my family as I age." –Matt
Through the program we continue to consistently see reduction in:
overall weight
body fat
blood pressure
blood glucose levels
cholesterol
other blood lipids
waist and hip size
emotional stress
medications needed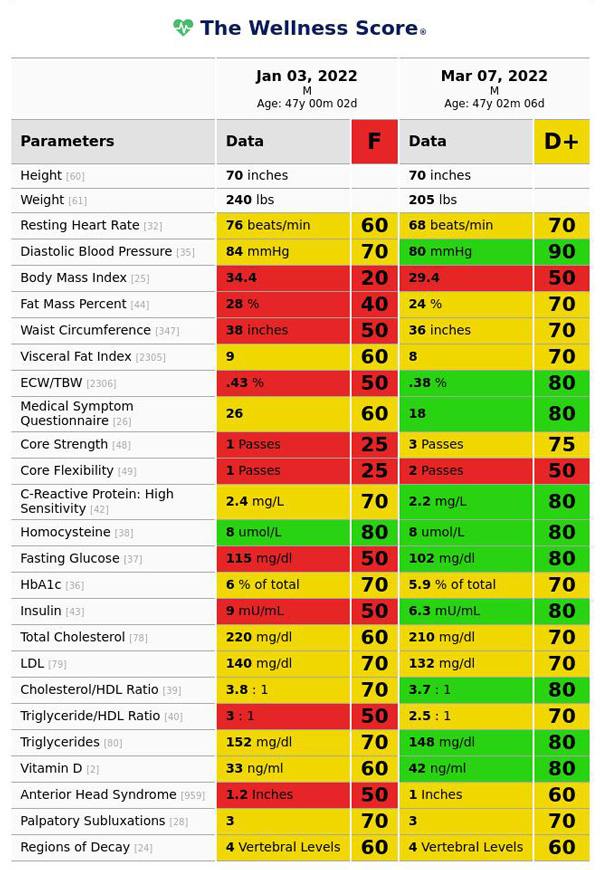 8 Weeks to Wellness ® is an eight-week program that focuses on health not sickness.
What exactly do I get with the 8WW program?
Day 1 discovery exam with the doctor
Day 2 results consultation to discuss the custom built 8WW program!
A custom blood panel pre and post 8WW program
One on one fitness and body composition session pre and post program
One on one functional nutrition session pre and post program
8 weeks of Chiropractic care with our head doctor, Dr Hart!
8 weeks of functional nutrition counseling with Angie Stastny, RDN
8 weeks of high-quality supplements + meal shakes all made in the USA
8 weeks of functional fitness with one of our functional trainers on staff
8 weeks of guided mediation and mindfulness exercises
8 weeks of a combination (Massage/Acupuncture/Spinal Decompression)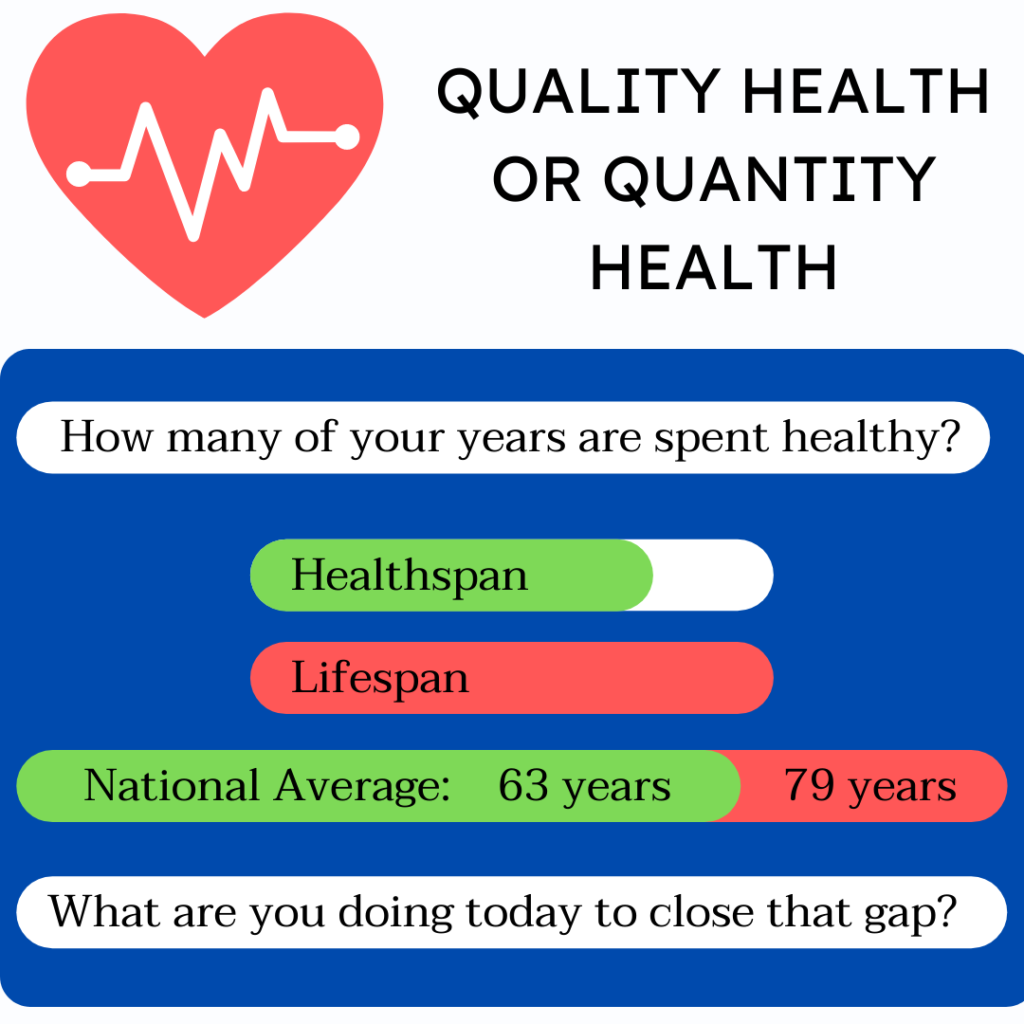 Testimonials
It doesn't matter where you are in your health journey. Young. Old. Fit. Obese. Relatively Healthy. Chronically ill. WHEREVER you are in your personal health journey, the 8 Weeks to Wellness® will come along side you to support you in creating the next level of wellness for you.
Why did you choose the 8WW Program?
"I knew I was overweight and I knew I was not in the best of health. I decided to get my Wellness Score done and was really shocked that I came out as an 'F'. I discovered it's not only what I looked like on the outside but what was going on on the inside and how it's affecting my overall health and wellbeing."

What happened after the 8WW Program?
"I feel alive! I have dropped my antidepressants. I have gone from a size 20 to 12. I have lost 3 stone."

Do you have any advice for someone considering the 8WW Program?
"Don't think about it. Just do it. You can't lose."
Why did you choose the 8WW Program?
"I was very very overweight, I was unhappy, had problems sleeping after a messy divorce and it was time to get back control of my life!"

What happened after the 8WW Program?
"I lost 4.5 inches initially and now lost 10 more on my waist. I feel lighter. I sleep better. I lost 4% body fat. My life has changed."

Do you have any advice for someone considering the 8WW Program?
"I would highly recommend it. You must be sure that you want to change your life, it's not so much about losing weight, it's changing your life."
Why did you choose the 8WW Program?
"I didn't feel good about myself, I had tired blood [anaemia] , my feet ached, I felt fat, I couldn't get into my clothes, I was drinking too much and eating all the wrong things – So I decided I needed to be taken care of."

What happened after the 8WW Program?
"Absolutely Fantastic! I feel better now, than I did 20 years ago! I lost over 2 Stone & 4 Inches off my waist. I was DIABETIC and I've gone down to PRE-DIABETIC."

Do you have any advice for someone considering the 8WW Program?
"I feel absolutely fantastic! I loved going to the gym and just coming here because I feel secure. Any problems they will all sort out for me – It has just been superb. I have thoroughly, thoroughly enjoyed it. I feel younger and my whole attitude has changed."
Why did you choose the 8WW Program?
"I main function was to lose weight. I've realized I am overweight and when I came here it was a whole holistic approach and I feel so much better."

What happened after the 8WW Program?
"I LOST the weight. I feel FITTER & am more active. QUALITY of my life has improved a lot. My BLOOD PRESSURE is down dramatically & I'm off TABLETS."

Do you have any advice for someone considering the 8WW Program?
"I thoroughly recommend coming here. I have my wife coming and starting soon and have my sister-in-law pegged to come too. I never work as hard alone as I do in the gym at CWC with the very friendly, professional experts – Overall I feel so much better and enjoy coming here."
Why did you choose the 8WW Program?
"I started suffering with migraines one year ago which was stress related, getting worse and worse and would completely knock me out for a day every week. I went to the GP and ended up on medication everyday which I didn't want to carry on with. Secondly my fitness level which has been horrible for a number of years but gyms never worked for me."

What happened after the 8WW Program?
"My results were ABSOLUTELY AMAZING! I was MIGRAINE FREE after 2 weeks. I have more ENERGY. Better SLEEP. CWC is my HAPPY place."

Do you have any advice for someone considering the 8WW Program?
"I was very skeptical at first and then after two weeks my migraines had gone and 6 months later I've had one migraine. The improvement in my quality of life is unbelievable. The family feel that they have here, I have never seen anywhere else – You come here to be with your friends!"
Why did you choose the 8WW Program?
"I started coming to Pilates at CWC. I wanted help with my knowledge of nutrition and how to maintain a healthy lifestyle."

What happened after the 8WW Program?
"I lost nearly TWO STONE. Over FIVE INCHES on my waist. I lost 7% Body Fat. I gained 7% Muscle."

Do you have any advice for someone considering the 8WW Program?
"I would definitely ,100% recommend the 8WW program. The massage, the nutritional knowledge, the Personal Training sessions is all perfect, everyone should do it!"